The early 2018 Winter Pilates Retreat was held on the 27th January at The Ardoe House Hotel.
Although I've hosted these events now for around 4 years I still try to make each one individual, unique, and I get just as excited welcoming my guests every single time!
We kick started our morning with a refreshing fruit juice and informal catch up to get our energy levels ready! Our first class of the day was a pilates based class themed: Awakening Foundation & Grow. This was a relaxing morning mat-based pilates class where we used the magic circles to build strength from the mat upwards. We worked in sequences to target all the muscle groups, whilst awakening our bodies and mind for the rest of the day.
A huge part of relaxation is chatting! We then gathered for our tea& coffee and a good chat amongst ourselves! Many were happy for a day away to themselves, whether this was a child free day, husband free day! or just a day away from the normal stresses and rush of every day life. Even for me, despite this being "work" it is a brilliant change of scene and I always feel something different leading my Retreat classes. Perhaps it is the overall calm environment that rubs off, or the extra time I take planning these classes. Whilst I plan every class I teach, in order to make the Retreat programme different to my weekly classes for my regulars I spend weeks gaining inspiration, new ideas, new flows, new sequences, and when I finally get to teach it I really enjoy sharing the finished product!
We also jumped into our goody bags at this stage for some healthy inspired snacks and ideas! This year our goody bags came to us from Lululemon and the Edinburgh branch have been great at helping us out! These bags also double up as a small gym bag, or lunch bag for work! They also included Lululemon's #18in18 goal setting cards to help us plan our goals for this year!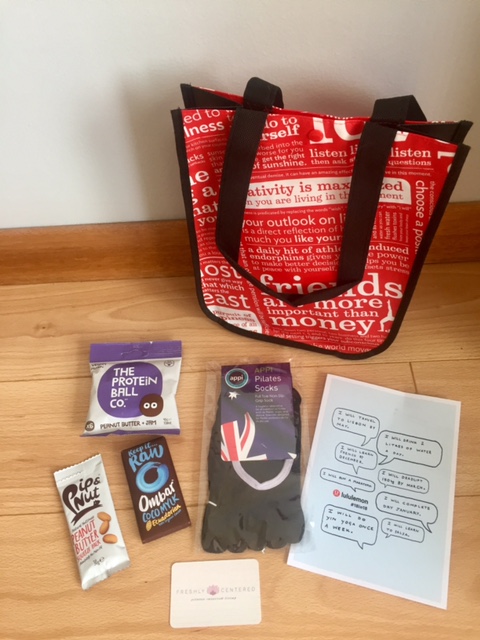 Completely unintentionally, the snacks this year turned out to all be vegan, gluten free, dairy free, sugar free, and completely organic! We had the perfect snack sized chocolate bar from Ombar in their coco milk flavour (guilt free chocolate does actually exist!). And because it is 100% organic cacao it really does fill you up, but without the post-sugar rush slump! We also had bite sized protein balls from The Protein Ball Co. These tiny snack balls were great to enjoy a few in between classes and re-stoke our protein levels without feeling over indulged on snacks! Finally, we had our pocket sized Squeeze Pack of peanut butter from Pip & Nut, which is an on-the-go sachet of pure peanut butter to provide a whopping almost 10g protein to refuel us when we needed an energy boost!
The Retreat gift this time was APPI Pilates socks! These are non-slip grip socks that increase your awareness on the mat and floor, whilst also providing a hygienic alternative to going barefoot! These came in handy right before our lunchtime class!
We then got our hearts racing, body toned, and worked up an appetite for lunch with our Barrelates class! This saw the fusion of BarreConcept, Standing Pilates & HIIT workouts and provided us with body conditioning, core strength and an added cardio edge!
Continuing the theme of relaxation and "me time", after lunch guests had plenty time to get out into the beautiful hotel grounds for a fresh walk, head to the swimming pool and spa to unwind, some found a quiet sofa to read a book and enjoy a coffee, others continued to sit and chat! Taking time out of your day to spend some time on yourself away from family, work, social media etc is definitely a requirement for relaxation!
We finished the day with a final pilates class: Energising Strength & Flow. This class provided energising sequences using the soft pilates ball and resistance bands to combine both pilates strengthening work with dynamic stretching. I think this is my favourite "special" class I have taught to date! It was the perfect combination of strength work, mobilising, and stretching and I felt fantastic after teaching this!
I love hosting these events and bringing a bit of fun to your weekend, as well as pilates and a healthy lifestyle approach. I've already booked the next one and details will be announced in the next few weeks! Keep an eye out if you're interested as we sell out within the day!