Freshly Centered empowers every individual to be the strongest version of themselves, with Pilates at our core.
We believe building strength physically and mentally can enhance your lifestyle and we make this achievable to all through physiotherapist-led Pilates.
The perfect balance of strength & wellness
Tracy Ward is the author of Science of Pilates, a Pilates Teacher, Course Educator and Writer, Senior Chartered Physiotherapist (MSc BSc) and owner of Freshly Centered.
Freshly Centered was founded in 2011 to deliver Pilates classes to group, individual, rehab, corporate and sports. This expanded to retreats, workshops and events, and Freshly Centered Online, the online studio. Tracy uses her unique approach of science-based knowledge, clinical experience, and passion for movement to help others transform their lives with expertly tailored exercises. She specialises in rehabilitation, sports and fitness, and Womens health.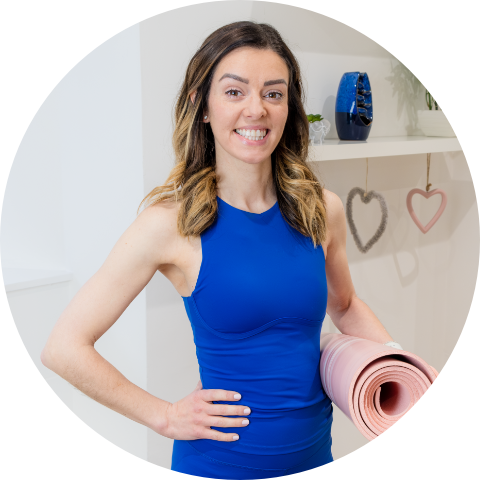 Qualified,

 

Professional

 
& Passionate
Tracy is registered with the CSP (Chartered Society of Physiotherapists) and a member of the HCPC (Health Care Professions Council). She holds a first class Honours degree in Biomedical Science and a Masters degree with merit in Physiotherapy, and a diploma in Orthopaedic Medicine. She has further qualifications in obstetric physiotherapy, Ante and Postnatal Pilates, Pilates for children, and Therapeutic yoga.
Tracy has worked for APPI (Australian Physiotherapy and Pilates Institute) since 2016 and is a Senior Presenter, teaching their training courses UK wide. She is also part of their course creation faculty and has designed and written educational courses for them.   
As an evidence-based practitioner with a strong interest in Women's Health, Tracy wrote and published The Postnatal Pilates eGuide in 2020; a guide to restore your core, gain strength, and feel good postpartum.
This was followed up with writing her first book in 2022, when Tracy published Science of Pilates with DK Books, which is both educational and inspirational, as well as visibly appealing with beautiful illustrations of every Pilates exercise and jam-packed with evidence-based tips and advice.
Tracy has previously worked as Head Physiotherapist to International level with Scottish Hockey and with numerous International athletes within rugby, rowing, squash, triathlon, and ice skating, including World Synchronised ice skating competitors.   
This total dedication and qualified approach to her clients and online platforms has seen Tracy featured in Women's Health UK Magazine and her YouTube channel branded one of the Top Pilates channels to follow.
Tracy publishes regularly as a Sports Medicine Writer, collating her clinical expertise with the latest research and evidence, and is happy to discuss any writing projects.