Self-care is an important part of looking after our mental and physical wellbeing, and making a special space in your home for it can make it much more routine. Here, Margo Marrone, Co-Founder of the skincare brand The Organic Pharmacy shows us some tips for creating a space for self-care at home. (Affiliate blog post).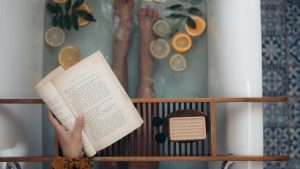 Our homes are importance places: at home we sleep, eat, spend time with family, socialise, and even work following the increasing popularity of remote working. In all the rush of the many activities we do at home however, we need to remember to unwind and take time for self-care. It can help to have a specific space set up to do this, as this creates a routine for our minds whereby we can associate a certain room with relaxing. This can help us wind down after a long day at work, and create a good routine for unwinding before sleep.
So, how can you make your own self-care space in your home? Here, we'll go through everything you can do to make the perfect relaxation corner.
Choosing a room
The first thing you'll need to do when considering putting together your relaxation space, is where you want to have it in your house. It doesn't have to be a whole room, it can be a corner of one room or an alcove you've set aside. So, decide what activities you most enjoy for self-care, such as taking a long bath, reading a book with a cup of tea, or baking your favourite cake recipe.
Then, carve out a corner of your home that fits your favourite pastimes. This might be making an area in your bathroom to keep products for when you indulge in a bath and an at-home facial, or creating a dedicated reading nook in your living room. Alternatively, if you have the space, you can turn your garage, spare room, or garden summerhouse into a full-time relaxation space that you can use for self-care. Whether you create your self-care corner in another room, or set aside a whole room for it, the concept will work just as well.
Set the mood
Wherever you've decided your self-care space should be, it's important to set the mood so that it remains a comfortable place to spend your time. Whether your space is inside or outside, candles can be great at setting the mood, so having some stored nearby is a great bit of preparation that ensures you can add this to the mood whenever you want. For outside spaces or summerhouses, garden lanterns can also be a great option that will add to the luxurious atmosphere.
Other ways that you can create the desired mood are including decorations, such as bunting and fairy lights, as well as comfortable soft furnishings such as cushions, floor cushions, soft rugs and blankets. By arranging all these things beforehand, you can ensure that you're able to settle into your self-care routine straight away, without arranging anything to make it more comfortable.
Surround yourself with things you love
One of the best ways to encourage ourselves to find time for self-care, is to surround ourselves with the things that we love, and which are important to our hobbies. So, think about what you enjoy doing in your spare time, and then see if you can keep some of the things you use for your hobby in your self-care corner. 
If you enjoy art, try keeping the materials neatly stacked by a comfy chair, and if skincare is your relaxing routine, keep all your products in a pretty case on display in your bathroom. This will remind you of a pastime you can do whenever you have a spare minute, and become a visible reminder to take time for yourself, especially when the demands of work and family obligations rush you off your feet.
Decorate with the right colours
The way that you decorate your home can have much more of an impact on your mental state and wellbeing than you might expect. Bright, cheery colours can make the most of the natural light in your home, and the increased sunlight throughout the house can help to raise your mood. So, try to go for bright, light walls in your rooms, and maximise the amount of light.
You should also look for colour schemes that you enjoy and try to paint your relaxation space in your favourite palette. While it's a good idea to keep to lighter colours, you can generally find a brighter or lighter shade of whatever colour you enjoy, such as lilac, green, yellow, or blue. This can make the area feel more personal to you, and make it especially welcoming.
By using these tips, you can find a corner or room in your home that will be dedicated to your own personalised self-care routine. This can help you get into a regular practice of self-care, and make your relaxation time feel more individual and luxurious.