I've always loved make-up and simply feel naked without it. Perhaps it's because I've worn make-up since I was a teenager and it's just completely normal for me. That may seem vain but really, what is wrong with wanting to feel and look your best? Now I'm not suggesting we all go and do our make-up simply to hit the gym, but often when I get ready in the morning my make-up routine is just part of this, whether I will be at work, the gym, or going for a run later on. If I know my schedule involves exercise I will modify it slightly and I've discussed this all below!
Now I'm no make-up artist (although I did work for Estee Lauder for a year or so during my Undergrad!) but this routine probably goes against all the rules! But it works for me and it may give you some useful ideas!
Skin 
Skin preparation is essential! After exercise, and before bed I ALWAYS fully remove my make-up and cleanse my face. I use

Micellar water

to remove face and eye make-up. Mini bottles are perfect for your gym bag and I just keep a pack of cotton pads there all the time.
I then use a

Bobbi Brown Hydrating Eye Cream

as I've been told it's one of the only eye creams you can use directly under your eyes and on your eye lids safely without any reactions! It makes under the eyes feel so smooth and works as a base for concealer too.
I then use the

Bobbi Brown Vitamin Enriched Face Moisturiser

. It feels so luxurious on your face and really smooth when applying make-up on top afterwards.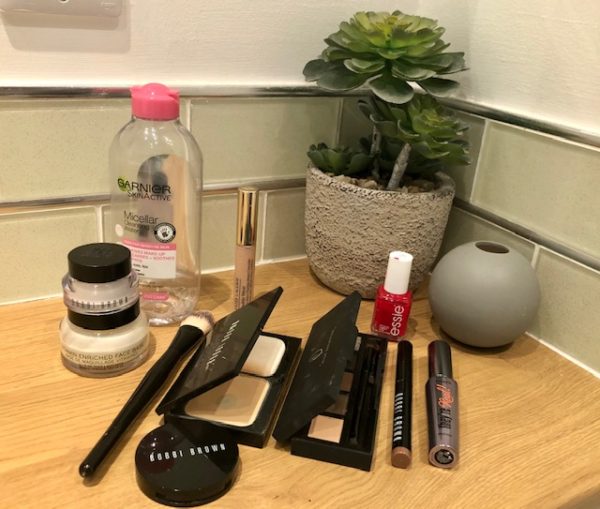 Face
1. I use the Estee Lauder Double Wear flawless finish concealer wand. I use it mainly for under the eyes to provide an even look all over that blends with the face, but I also use it over reddened areas on my face and around my nose. Like their famous Double Wear foundation, it lasts all day/night.
2.I like an all-over face finish for my make-up, but simply don't have the time to do this properly anymore, nor do I want a full face for my workouts. So instead I switched to using a powder foundation when I was on maternity leave and I've never looked back! The Bobbi Brown Skin Weightless Powder Foundation provides full coverage and acts as your foundation and finishing powder all-in-one. It's so light weight my skin still feels great underneath. It also withstands sweaty workouts and doesn't blotch, fade, or shine!
3.To break up the face coverage I then apply some cream blusher to my cheeks. Cream blushers give a smooth glow rather than a matt finish you get from a powder. I'm currently loving the Mac Pot Rouge for Lips and Cheeks and I use Fresh Melon.
Eyebrows
4.I get my brows done every 4-5 weeks, but I also use the HD Brow powder to give extra definition and shade. The powders are great for applying as much or as little as you need and good eyebrows really frame your face.
Eyes
5.I don't have time for full eye make-up, and especially not for going to the gym! Saying that, I also don't like a naked eyelid so I use the Bobbi Brown Long-Wear Cream Shadow Stick to cover the eyelid and provide some shade. These also act as primers if you were to apply eyeshadow afterwards and for this reason they have a silky smooth feel and finish so there are no creases and it lasts the entire day.
6.Mascara. My absolute essential. My eyes do not feel "awake" without mascara. I currently use the Benefit Mascara "They're Real" for its extra length. It is super thin to apply so there is no chance of clumps or errors and it gives a really long lash, but a natural looking finish.
Although it's not a make-up, I've also included my Essie nail polish in the photo and my routine. For anyone who knows me will know I feel naked without my nails done! My day job doesn't allow painted nails, so on my days off the Essie nail varnish's provide that salon-like finish and they last until I'm next back at work! Nicely done nails make me feel more put together without making much effort and a red colour is my favourite!
And there you have it! My 6 essentials for a quick, yet "done" make-up look that you can wear to the gym without feeling heavy on the make-up, and can apply in next to no time after workouts when you're on the go!