Since I got back from my holidays a couple of months ago I have been finding all sorts of inspiration on ways to improve my health and fitness lifestyle.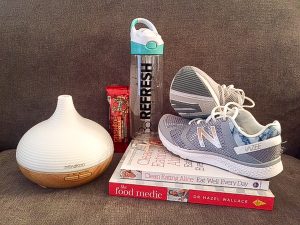 I think the long break away in one of my favourite cities really did wonders for clearing my mind and giving me a fresh approach to things. Being part of such an active and healthy city like Vancouver was a breath of fresh air! Everyone there is fitness mad and its just common practise and part of their lifestyle. I've adopted this approach on returning home and here is a small insight in to what I've been up to with my latest finds that I currently cannot do without! (I've also provided links if you want to find my exact purchases, some of which are affiliate links).
1. This first one started off in Vancouver when we were led to a local shop that only sold essential oils and diffusers and I fell in love with them. I immediately sourced them closer to home and now have an oil diffuser both upstairs and downstairs! My favourite oil is eucalyptus and the fresh smell through the house is so relaxing and also clears your sinuses! I feel like it just brings a calmness to the house in the evenings! VicTsing Aroma Diffuser 300ML Essential oil Diffuser Electric Ultrasonic Humidifier Aromatherapy Cool Mist Humidifier, Air Purifier, 7 Color LED lights and Timer Settings, Whisper-Quiet – Yellow Wood Grain
2. I initially only bought this water bottle because it looked nice! I always have water bottles with me, whether I am at work, the gym, or just out and about, but even then I am often so busy that I still forget to hydrate adequately. This new water bottle was a game changer for me. It looks pretty and it also keeps me on track to ensure I have drank enough, reducing headaches at work, and allowing me to train properly as I am not dehydrated. It's sporty look also makes it ideal to bring in my rucksack on long dog walks for me and the dog! (Water Bottle, Degbit® [900 ml/ 32oz] BPA Free Sports Water Bottle with Straw + Time Markings, Non-Leak, Eco Friendly Durable Tritan Cycle Water Bottles Plastic drinks bottle for Outdoors and Camping (red)
)
3. Good planning for training also involves good nutrition. Since starting a more serious weight training programme I have been really aware of what my intake is and I've discovered I really knew nothing about what I was eating! My macros were impossible to hit and although I have always eaten plenty, I was not getting anywhere near the amount of protein required for strength gains. Enter Grenade bars. A friend introduced me to these and with 23g of my much needed protein as well as tasting great (why do normal protein bars all taste so awful?! ) they are now my go to snack before or after any training session. Grenade Carb Killa Bar High Protein Bar, Protein Bar, Eiweißriegel Whey Protein Bodybuilding 12x60g
4. More nutrition finds! I have really focused on my diet these past couple of months because although I have always been able to eat healthy (most of the time!) I have never been that great at cooking from scratch with only natural ingredients. The usual rush from work to home to activities etc often found me reaching for jars and ready made sauces or food to throw in the oven. Whilst this is completely ok I really wanted to learn the basics and cook wholesome, healthy, natural meals, that were also hitting all my macros! So I purchased both The Food Medic and Clean Eating Alice. Two people I "found" on Instagram and their way of doing things just clicked for me. Simple recipes, natural ingredients, high in protein, and lots of ideas for healthy post-gym snacks, smoothies, as well as the usual meals. This is something I found other cookbooks were always lacking and is maybe why I never stuck with them. Find them both here:The Food Medic: Recipes & Fitness for a Healthier, Happier You
Clean Eating Alice Eat Well Every Day: Nutritious, healthy recipes for life on the go
5. And finally my love of workout gear expands into trainers now! I have fallen for the Sweaty Betty exclusive New Balance trainers and now own them in two colours! (They have just launched a third colour design too!). These are just the comfiest trainers I've ever purchased and I feel their light enough for weight training but supportive enough for running and dog walking in. As they are limited edition to Sweaty Betty the range may change but you can check their stock out here.
I hope you enjoy some of these finds! xo