You can do anything, but not everything. This is something I've recently discovered! It sounds so simple but It's taken a while to sink in for me. Really sink in.
If you've been following on Instagram or Facebook (find me @freshlycentered) you will have seen my recent week off of all things work related, where I enjoyed the outdoors as much as possible and had the best Summer weather too! I took the time to do all the things I enjoy. I went to the beach- a lot!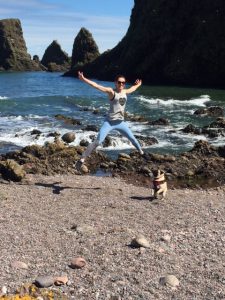 I went for scenic runs, I cycled, I hit the gym, I painted, and I relaxed at home reading and cuddling with my pug. Don't get me wrong I do these things normally, but in a normal week I have to choose to do one or the other, or feel guilty for not getting enough runs in, or not spending long enough at training. So a week of just leisure time was exactly what I needed. And now hopefully it's shown me that you don't need to do everything, all of the time. As long as I'm training, keeping fit, and getting outdoors it will all add up and work out.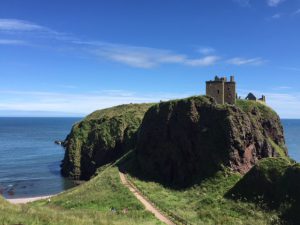 (Dunottarr castle- right on my doorstep as my local scenery!)
I've really enjoyed the downtime too, I feel I'm always on the go and active- because I love to exercise and I feel good when I do, but it's been nice to slow down and switch off. If you're looking for more down time and good books to read try some of these below; I've been engrossed in the thriller type theme for the past few months, finding that these really let me disappear for a while and get involved in the story! I love a book that you can't put down and are eager to get back to! Just click on the images to purchase or for more info:

I couldn't put this one down! What starts out as an excellent story with a dark twist, finishes with even more twists that really make you think. The last chapter thickens the plot incredibly and is a brilliant read.

This is my favourite one so far. I kept hearing small bits about it as it's became quite popular, but it truly lives up to expectations and you'll want to finish it within days. What the girl on the train witnesses becomes the centre of a huge police investigation, but is she completely innocent herself?
Disclaimer: This is not for the timid. I found this one very, very disturbing, yet I kept reading because I had to know how it ended. It will make you question everyone you have ever trusted, but remember it is purely fiction!
How well do you know someone? Amelia is a bullied teenager that commits suicide but her lawyer mother knows that she would never do that. The story unfolds as her mother tries to uncover the truth, that spirals in to all sorts of cobwebs.
Every parent's worst nightmare when their child disappears at the funfair. This story unfolds chapter by chapter in to so much more than you initially expect it to be.
Such a simple concept after a night out turns in to a long winded disaster that will have you on the edge of your seat until you finish.
Finally, this one had been on my list to read for a while too but I never bought in to the concept. I don't like these kinds of "self help", "feel better" books, but I finally caved and purchased it. I'm not finished yet but so far it is brilliant! It's completely not what I expected and you will relate to so much that the author discusses. It is more her take on life and making the most of it. Definitely a positive vibes book we should all read!
Happy reading! xo