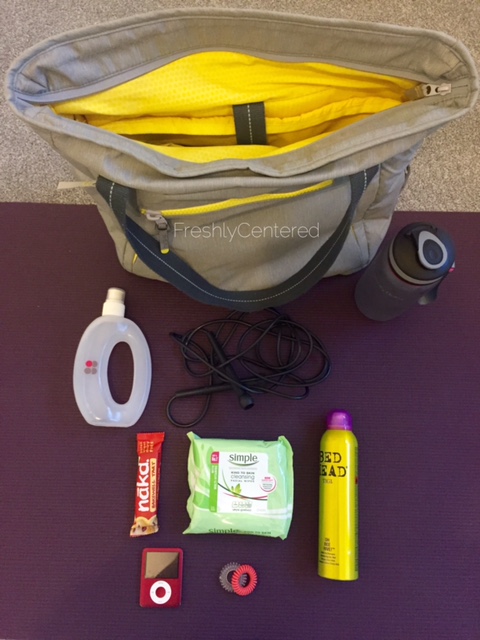 Workout bag essentials- What do you pack?!
I've missed a few blog posts these past couple of weeks. I feel like I've been super busy and life has just gotten in the way! I've been trying to focus on my own workouts a bit more but something else always crops up- that's life though right?! So, it seemed appropriate right now to blog about my workout bag kit and what I ALWAYS have to pack no matter whether its a gym day, yoga class, or teaching Pilates myself.
WATER BOTTLES: I have to take two bottles with me! One small one that I can hold when I go running like this Run Bottle
, and then a larger normal sized bottle for all my other workouts like this Hydrate Waterbottle,
with a handy wrist strap and leak proof lid!
SKIPPING ROPE: This Skipping rope
 is a great way to warm up super fast and get your heart pumping, and your arms and legs going!
NAKD BAR: I can't workout without a snack beforehand to give me an energy boost. And it's always a good idea to keep one in your bag for immediately afterwards! It stops you grabbing the unhealthy snacks too.
FACE WIPES: These Simple Kind to Skin Cleansing Facial Wipes 25 Pieces (Pack of 6)
 easily wipe away your make up after a good sweaty session and leave you clean and fresh faced!
DRY SHAMPOO: This bedhead dry shampoo
 is an excellent hair freshener to leave you clean with a little volume.
IPOD: I can't workout without music. No compromise! (Similar: Apple iPod nano 16GB, 7th Generation – Silver
).
HAIR TOGGLES: These Spiral Hair Toggle 5pk
 hold your hair secure without being too tight and sore, and even better, no bumps when you remove!
THE BAG ITSELF: This bag is my saviour. It has pockets for your wet clothes, footwear, iPad, gym clothes, a large section for your Pilates mat- the benefits are endless! I'm even packing it right now to use as my hand luggage on my forthcoming travels! Every good workout needs a proper bag.
What else would you pack?? I always love to hear what others keep in their workout bag!