If you're like most people and setting those good fitness goals for January, I thought it may be good to start this year's blog posts with a practical one! For 2020 we will also have a NEW BLOG POST publishing EVERY FRIDAY!  Like with anything, organisation sets you up for the wins and will help you continue to achieve your goals. Having my gym bag always "loosely" packed means I save so much time when I decide it's gym time. I just have to add a change of clothes & underwear for afterwards, and my water bottle!
What's in my gym bag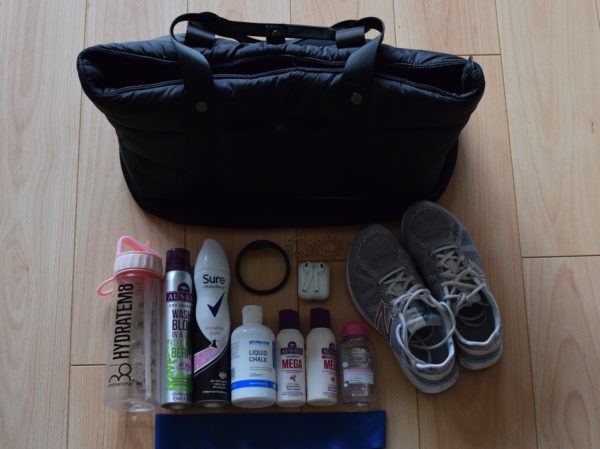 Headphones

– my most essential item to be packed! I was gifted the Apple AirPods for Christmas and just love them! I've used wireless headphones for a few years now and their certainly a game changer, however I wanted the AirPods for an even less bulkier headphone

Gym trainers

– I like to use indoor trainers for the gym and use a slightly softer pair for gym work compared to my runners which need to be extra supportive.

Mini shampoo & conditioner

– the 2nd most essential!

Dry shampoo

– for when there isn't time to wash & blow afterwards. The best one I've found is by BedHead. No white spray and it smells fresh too!

Make up remover-

required pre-swim or post-workout. Always.

Spray deodorant-

I don't think this needs explaining!

Hair brush & spare bobbles- 

I also have a comb packed for brushing out wet hair and the soft de-tangle type bobbles.

Chalk

– for when I get back to those heavy lifts again. No one likes ripped palms or slippy grip!

Looped resistance band- 

for extra glutes work or warming up before heavier squats.

Locker key & membership card- 

This just saves so much extra hassle if I have both at hand and can just bypass reception and run in/out.
Let me know if there is anything else you keep in your gym bag that may be useful in the comments below!