With the Summer season upon us I have been drawn to some great summer reads! For a short spell recently, mum life and work had taken place instead and I hadn't been engrossed in a good book for a while, but I have found some great ones lately that I'll share with you here.
(This post contain affiliate links, which means I get a tiny percentage if you purchase through the link. Thank you for your support).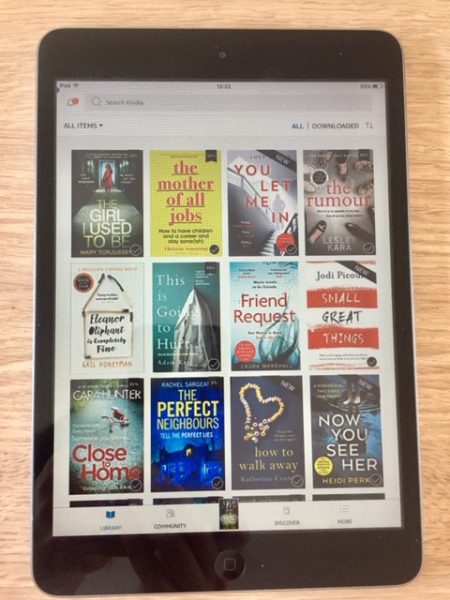 Here is the current view of my Kindle library on my iPad! First up on my library, and therefore the last one I've read is The Girl I Used To Be: the addictive psychological thriller that 'will have you gripped from the start'
I didn't pay much attention to the write ups of this one but purchased it because I had enjoyed a previous book by the same author. Poor Gemma is a super hardworking mum who never takes a day off from her business, but a business trip away ends in a chilling scenario that follows her home and threatens to ruin her stable family life she works so hard for…. Addictive from the start!
2. You Let Me In: The most gripping, unputdownable page-turner of 2019
I think the title caption of this one is completely true! I actually couldn't put this one down and was desperate for evening time each day so I could read a bit more! Ella is just a writer in her beautiful seaside home, but someone is revealing her past one clue at a time in the most subtle way that has her wondering if its all in her imagination…. Surely she just wants to write her novel to earn her living and have a peaceful life? This was spine tingling and left an unsettling feeling if I was home alone, but kept me wanting to read more too!
3.The Rumour: The Sunday Times bestseller with a killer twist
A Sunday Times bestseller, The Rumour is something we can all relate to on one level! When one small piece of information gets exaggerated, then twisted and passed on, who knows what damage a rumour can do! Set in a small seaside town details of a killer come to light, but the question is, how close to home is the truth?! Joanna is distraught at the upheaval her comment has caused, but also can't help seeing it though to the end.
4.Eleanor Oliphant is Completely Fine: Debut Sunday Times Bestseller and Costa First Novel Book Award winner
I'd heard of this book for some time but for some reason I strayed away from it until I finally caved! I'm so glad I did! As another Sunday Times Bestseller it did not disappoint and I loved following Eleanor on her journey of becoming a functioning woman of society! You feel sorry for her on one level but on the other hand she is perfectly happy in her own little world and really just needs someone to share it with! A real "feel good" story where you just want to know how she gets on!
5.This is Going to Hurt: Secret Diaries of a Junior Doctor
This is the only non-fictional book on my recent list. I had the intention to read more non-fictional books earlier this year but so far I keep getting distracted from them and revert back to fiction I can get lost in! But this one I managed to stick with and it kept me wanting to read on like a normal book to find out more! Perhaps its because of the medical nature and facts I can loosely relate to in my health professional role, or the shear shock at some of the facts Adam discloses too! For anyone who works in the healthcare profession this will resonate with you on some level, and for anyone who wants a REAL insight into the medical world. True facts but written so well with humour on his side.
Hope you enjoy these reads if you go for any of them! I'm always on the lookout for more so please put any recommendations in the comments below for me to check out!