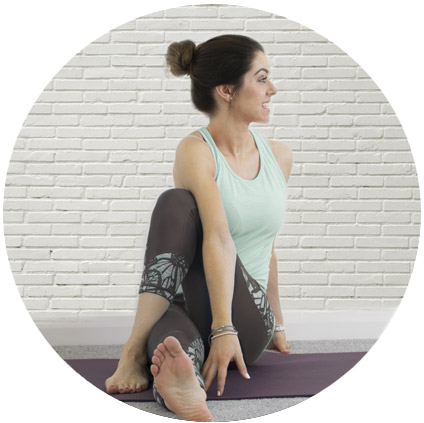 Freshly Centered offers live online Pilates classes in the comfort of your own home. All you need is an internet connection, a suitable space for you and your mat, and an optional hand towel or small cushion for your head support. Classes are live streamed using the online resource Zoom. 
All classes are taught by Tracy, an APPI Pilates Teacher, APPI Course Presenter, and Chartered senior Physiotherapist. Tracy offers modifications and options throughout every class to ensure your safety and comfort whilst providing you the workout you require. Classes are unfortunately not suitable for pregnant or early postnatal women, however Tracy does offer 1-2-1 Zoom sessions for pregnancy and postnatal Pilates.
Mixed ability Pilates: These classes are full body workouts and suitable for all levels with easier and harder options provided throughout.  
Pilates & Stretch: This is an intermediate Pilates workout that takes you from strength work to stretching in a dynamic flow. Leave feeling strong yet mobile and relaxed! 
Pilates & the Band: This matwork Pilates class uses the long resistance band to add an extra challenge! 
Pilates & the Soft Ball: Pilates matwork exercises using the soft ball to challenge balance and stability, target smaller muscles, and add a sense of flow to your routine. 
Pilates & Strength: This is an advanced Pilates workout that incorporates general strength exercises too for a full body energising workout that fills the void of the gyms during their closure too! 
Please select the class or classes that you wish to attend and follow the instructions to sign up! If you have any questions please get in touch at tracy@freshlycentered.com or use the contact form here.
What can I say Tracy…. you have provided a consistent and much needed routine during this uncertain time. Your calm nature provides a much needed hour of quiet and focus three times a week and allows me to switch off from the stress of work.
As a beginner to Pilates at the start of this year and someone who used to dread any form of exercise class, Tracy has guided me through step by step to ensure that I am always comfortable and confident in my movement whilst maintaining form. I now look forward to each Pilates class and love the overwhelming feeling of calm and accomplishment after each class.
Whilst teaching through online classes, Tracy's clear instructions have allowed me to still feel confident in my movements and her reassurance and adjustment tips when checking our positions for each exercise is always welcomed. I have absolutely loved practising Pilates more than once a week!
Having lived with fibromyalgia for 8 years now, I have never felt as physically strong as I do now and I know that starting Pilates classes with Tracy have been the turning point. Even on days where the fatigue is overwhelming, I know that Pilates will provide me with low-impact movement and always provides me with an energy level boost. Throughout each class, Tracy will offer modifications to suit all needs and she is always an email away should you wish to advise her of any new injuries or needs.
Thank you so much for all the hard work you have been doing! I really hope you will manage to keep at least one online class going once we are back to normal.
– Rachael, Online Pilates Client
Only positive feedback from me! I find the sign up and set up using zoom really simple. The classes are easy to follow along with as you consistently provide guidance and tips to check posture – I find these really helpful. I've been busy working from home, sometimes at my desk for over 10 hours so I really enjoy the hour of pilates at the end of the day. Was excited to see the new classes too. I am going to sign up to tomorrow night – looking forward to it!
– Sophie, Online Pilates Client
Tracy's online pilates classes have been a massive part of my lockdown routine. Not being able to get my regular sports massages had left my back feeling quite sore, but since a friend recommended Tracy's classes I have not been feeling it so bad at all. I try to attend twice a week, definitely once anyway, and would recommend them to anyone.
Tracy is extremely professional, the sound quality, lighting and picture quality are great, and you can always see what she is doing. She constantly comes to check that we are doing the moves properly too. I had not done Pilates for a few years, simply because I live on a small island and the option was not there, so these online classes have rekindled my love of pilates once more and I know my body is glad I am doing it again too! I hope there will still be at least one online class a week after lockdown so that I can continue to attend.
– Joanne, Online Client
Just wanted to say really how much I love your classes and am so glad my friend told me you were doing them online.
I have done Pilates before but never really felt the benefits from it, but two days a week with you I can really feel a difference, especially in my core strength, that I've not felt before- I go to a PT and she has commented on how much better I am at core exercises- and it's a great way to unwind after a week or going into a week.
I think you give detailed instructions and good guidance when you check in to allow us to tweak. Again I get more benefit from this class than the ones I have previously attended in persons. Plus I have been working really long hours and actually it fits in well that I can just change my top and put my hair up and it takes me 3 minutes to get from "work" to class and back again!
– Rachael, Online Client