Transform your home Pilates practise with Tracy in her live, online classes.
Workout with intention, focus, and a positive mindset.
Creative class sequences with you in mind
Freshly Centered offers live online Pilates classes in the comfort of your own home. All you need is an internet connection, a suitable space for you and your mat, and an optional hand towel or small cushion for your head support. Classes are live streamed using the online resource Zoom.
If you cannot make the live class time, don't worry! Sign up to your preferred class using the booking system below and Tracy will email you the class recording after the live class time ends. This link is valid for 7 days, giving you time to join your class at a more convenient time for you!
All classes are taught by Tracy, an APPI Pilates Teacher, APPI Course Presenter, and Chartered senior Physiotherapist. Tracy offers modifications and options throughout every class to ensure your safety and comfort whilst providing you the workout you require. Classes are unfortunately not suitable for pregnant or early postnatal women, however Tracy does offer 1-2-1 Zoom sessions for pregnancy and postnatal Pilates.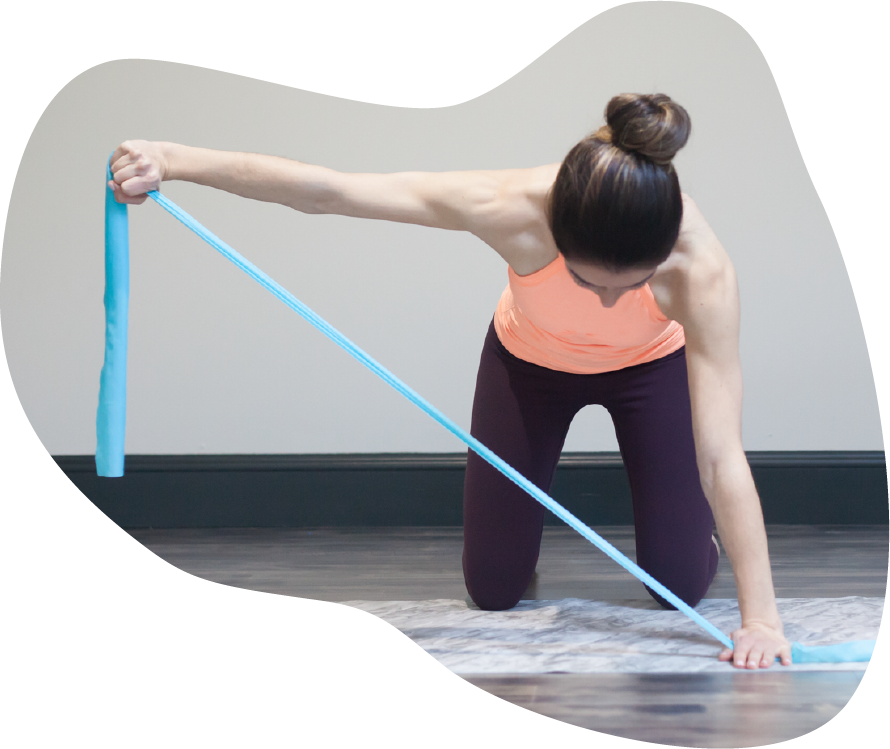 Mixed ability Pilates: These classes are full body workouts and suitable for all levels with easier and harder options provided throughout.
Pilates & the Band: This matwork Pilates class uses the long resistance band to add an extra challenge!
Pilates & the Soft Ball: Pilates matwork exercises using the soft ball to challenge balance and stability, target smaller muscles, and add a sense of flow to your routine.
Pilates & Yoga: Unite Pilates principles and core exercises with sequenced Yoga poses. The two practises become intertwined for total body and mind wellbeing. 
Book an online class now!
Please select the class or classes that you wish to attend and follow the instructions to sign up! If you have any questions please get in touch at tracy@freshlycentered.com or use the contact form here.
"Thanks so much for your pilates YouTube videos. I've been struggling to get to pilates classes but now I do yours at home & I love them!"
– Julie-Ann
"I just wanted to say a massive thank you for running your pilates classes- I've so enjoyed coming to you over the years! You're a fabulous teacher & I've enjoyed pushing myself to the next levels!"
– Rachael
"The course presenter (Tracy) was welcoming & very knowledgeable. She answered all questions brilliantly & provided clinical application throughout. Her feedback & technique correction really helped."
– Anonymous course feedback
"Thank you so much for all your help & guidance with pilates over the last few years. You are easily the best pilates teacher I've ever had & I'll really miss the classes! I'll try remember all you've taught me & not slip into bad habits!"
– Anna
"I was sceptical at first but now I'm addicted. Pilates has cured my low back pain & now I can play football pain free."
– Graeme
"I feel like a new person after every class with Tracy, she makes sure there are plenty of variations for different abilities & check everyone is carrying out the moves correctly & understands her correction. I really wouldn't want to go to any other pilates instructor in Aberdeen"
– Kayleigh
"The absolute best. I always feel in safe hands & know that Tracy looks after each of us individually within the class"
– Sally
"Thank you so much for a great year, I love the pilates class & would be lost without it."
– Jen
"Tracy is a great presenter and has a lovely rapport with the group. Very approachable and answered every question brilliantly."
– Falkirk course feedback
"Tracy was extremely welcoming and knowledgeable and expert at correcting my technique."
– Falkirk course feedback
"Tracy was extremely welcoming and knowledgeable and expert at correcting my technique."
– London course feedback
"This is an amazing short and powerful Pilates session, I'll keep doing it and follow your videos. Thanks!"
– via Youtube
"I'm trying to recover from a hip flexor injury and this hip opening video was fantastic!"
– via Youtube
"Thank you very much. One of the best Pilates workouts I've done!"
– via Youtube
"I really enjoyed this workout. Perfect for first thing in the morning!"
– via Youtube