Welcome! I'm Tracy Ward and Freshly Centered is my pilates business which provides pilates classes & services and Retreats in Aberdeen, Scotland; as well as online workouts and blog posts from this website.  Have a browse through my website for inspiration on all things pilates, fitness, rehabilitation and health.
I believe Pilates is body-changing, life empowering, and essential for everyone whether you just want to keep your body in balance, or enhance your performance. Pilates changes the way your body moves and will change how you do everything from now on!
I hope this site can bring something to your daily fitness routine, whether its just getting you started or building on stronger foundations.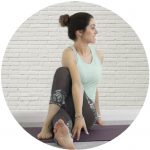 Tracy xo
Professional
---
Tracy is a Senior Chartered Physiotherapist and having gained her Masters degree and several postgraduate certifications she specialises in musculoskeletal, spinal, and sports injuries, as well as Ante and Postnatal Pilates.
Tracy uses pilates on a daily basis with her patients to enhance rehabilitation and also runs her own pilates business in Scotland, consisting of group classes, 1-2-1 sessions, & Retreats. She trained with the APPI (Australian Physiotherapy & Pilates Institute) and now works for them as a Course Presenter teaching their Teacher Trainer courses UK wide. She is also trained in BarreConcept, gaining Level 3 REPS certification and accreditation with the Pilates Method Alliance (PMA). She has previously worked as Head Physiotherapist to International level with Scottish Hockey and with numerous International athletes  within rugby, rowing, squash, and triathlon.
Personal
---
I am a competitive ice skater and runner and try to practise pilates daily.  I'm an ashtanga yogini, lift weights in the gym and hope to do my first Duathlon soon. When I'm not doing sport I'll either be walking my Pug, or involved in art, photography or travel.
Contributions
---
Contributing writer // Sports Injury Bulletin // (2012-Present)
Contributing writer // Peak Performance // (2013-Present)
Contributing writer // Healthy Hamstrings book published by P2P Publishing Ltd // (2013)
Contributing writer // Physical Therapy in Sport // (2014-Present)
Contributing writer // The Journal of the Acupuncture Association of Chartered Physiotherapists // (2014-2016)
DISCLAIMER:
Freshly Centered and Tracy Ward cannot accept liability for any consequences of you following any advice or workouts presented on this website. I endeavour to provide the most accurate information, however you should always seek advice from your doctor prior to starting any new fitness programmes or advice, and you do so completely at your own risk. If in doubt, stop and see your G.P first.